Spotlight of the month: Vision Care Center Langley
Spotlight of the month: Vision Care Center Langley

November 22, 2018
VISION CARE CENTRE WAS ESTABLISHED IN 1995 AS A ONE-OF-A-KIND, FULL-SERVICE OPTICAL WITH A MANUFACTURING AND EDGING LABORATORY.
Over time, Vision Care Centre expanded to include optometric services. In September 2013, Dr. Damanjit Johal took over ownership of Vision Care Centre as the clinic's full-time on-site optometrist.
Although Langley is a large city, it has a small community feel to it. We've gotten to know our patients on a personal level, building rapport with them over the years. We are involved in our community and support local sports and arts and culture groups such as the Langley Blaze Baseball team and Thrive Dance Studio. We are proud to continue and evolve our optometry practice that has been serving its' patients eyecare and eyewear needs in Langley for over 20 years.
Our mission is to provide the highest standard of comprehensive patient care through education and prevention, along with customer satisfaction through outstanding service and top-quality products. In keeping with our vision, we recently purchased an OCT/Fundus camera which has been a great asset in helping us fulfill our mission of providing the best possible care for our patients.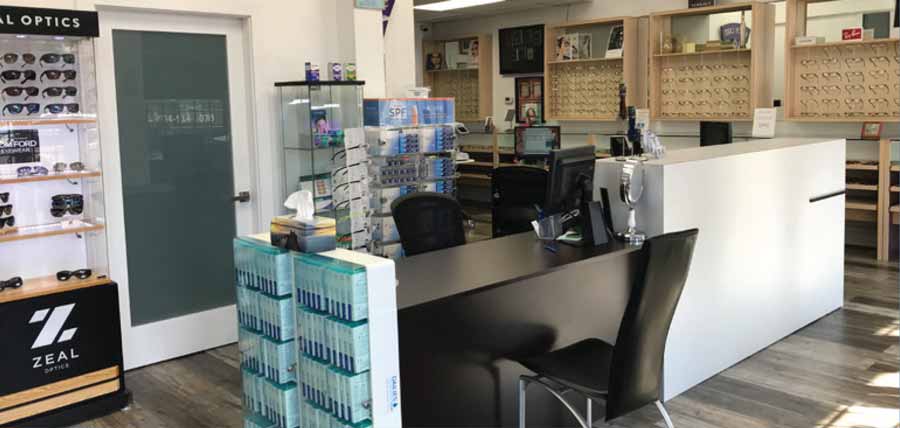 WE ALSO RECENTLY RENOVATED OUR CLINIC TO MAKE IT MORE EFFICIENT, such as plumbing in the exam room to save time with disinfection and a special testing room next to the exam room to improve patient flow.
"OSI's Leadership and Management course is an invaluable resource for any owner or manager of an optometry clinic who wants to grow their business and increase profits. Leadership and Management training by OSI gave me a clear, systematic approach to running my business so I no longer need to rely on my instincts. Thanks Elaine!"
Dr. Damanjit Johal
To meet the needs of our customers we offer a large selection of frames, with styles updated frequently. We also have a large inventory of contact lenses, allowing patients to take home their spherical lenses the same day they are ordered. Similarly, we keep a large inventory of stock lenses and have an in-house lab, so patients can walk out with a complete set of single vision glasses the same day. We do a follow-up call two weeks after the customer picks up their glasses to make sure they are happy with the product.
Regular training is an integral part of our staff's continual development, and in addition to our own in-house training, we use outside specialists, such as our OSI Regional Account Manager, Elaine Pedersen, to help train staff in many key areas. This ensures that our eyecare service is of the highest standard. Expand your Eye Q has been a great tool for educating our staff and getting new staff familiar with our industry. In addition, OSI's Leadership and Management training was great for the business and HR side of the clinic.
bcvisioncare.com