Clinic Spotlight: Ebata Eye Care
Clinic Spotlight: Ebata Eye Care

April 15, 2021
Focus on the Future
Nestled in quaint south-central British Columbia in the city of Kamloops is family-run Ebata Eye Care. A prime example of how a committed eye care team combined with leading technology results in a premium eye care experience.
Dr. Russell Ebata is a second-generation optometrist who owns and operates Ebata Eye Care with his wife and business consultant Amrita Ebata. He is currently in his 11th year practicing optometry as he progresses the clinic's legacy, originally owned by his father Dr. Eugene Ebata.
"My father graduated from the University of Waterloo in 1974 and I graduated from the same university in 2009. We practiced together for several years. As I started to work more, he started to work less. In 2014, he celebrated his 40th year of practice and his retirement," shares Dr. Ebata.
Becoming an optometrist was an organic transition for Dr. Ebata as he was immersed in the family profession from a young age. He points out one of the most important factors of optometry: building relationships with patients. "The one thing I admired the most about my father is that he had these really great relationships with his patients. He knew their names, what they did for a living, types of hobbies. He loved being an optometrist," explains Dr. Ebata
My father joined OSI in 1984 and we have been loyal members ever since. As I started to take an interest in running the practice, I realized that I had no formal business training.
This is where OSI Group's products and services can help lay the foundation for success for an optometry clinic.
Dr. Ebata expresses his support for independent optometry. He shares: "I firmly believe that if optometrists don't take the reins and make the hard decisions, someone else will do it for them. For me, that is a high-value point for OSI as they support independent optometry."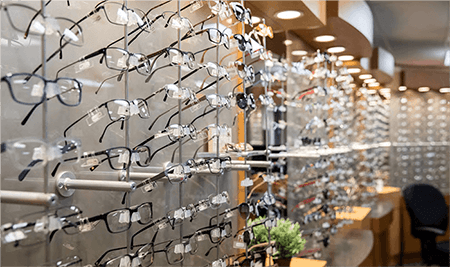 Ebata Eye Care is one of the many OSI clinics that jumped on board with Avenue Eyewear at the cusp of the first Covid-19 lockdowns. Avenue Eyewear is exclusive to OSI members, offered online and in-store in most provinces. Dr. Ebata and his wife took the time to reflect on how the business would change post-lockdown and made the decision to promote Avenue Eyewear in their clinic portfolio.
"The online eyeglasses gallery has been great because when patients come in for their designated appointment, many have already reviewed the frames online. It streamlines the process as patients have done the research. Most people have been very receptive. I would say that 95% of patients in my chair are there because they are motivated to purchase," says Dr. Ebata. The clinic has seen a significant increase in dispensing.
Avenue Eyewear resulted in a major success story at the clinic. Dr. Ebata is dispensing to the 20 to 40 years old demographic who are comfortable with online purchases. Says Dr. Ebata, "Avenue Eyewear has been great, the quality and the designs are really good and the price point is fantastic. We brought it on because we wanted the line, but with the idea of attracting patients who were purchasing online. Since its integration into the Vision Store, it is even easier to market. A great line that has turned out to be quite an effective tool in our dispensary."
Vision Store is also an e-commerce solution exclusive to OSI Group members. A valuable tool that can help generate additional revenue with the sale of contact lenses, eye care products, and accessories.
Dr. Ebata and Amrita had their eureka moment and said: "This is the future, right here," he explains. "Online sales are a hard thing to wrap your mind around. Being in British Columbia, the epicentre of online optical sales, there was a stigma about it at first. In reality, what people want is convenience." He points out that online sales do not provide a huge source of revenue, but it's a driver to get people into the clinic and frees up the clinic staff to manage in-store service.
With a population of 90,000 people in Kamloops, Ebata Eye Care is an integral part of the community."It is part of our mission statement to give back, especially with the hard times that this pandemic has caused. We supported grassroots initiatives, our hospital foundation, the United Way, and various other charities in 2020. It is our responsibility to give back to the community," says Dr. Ebata. Ebata Eye Care continues to champion its mandate of helping patients, giving back to its community, and focusing on its long-term success.