Clinic Spotlight: Cordova Bay Optometry
Clinic Spotlight: Cordova Bay Optometry

December 23, 2021
EMBRACING THEIR LOCAL COMMUNITY
Driving through Cordova Bay in British Columbia, you can't help but notice the lush parks and ocean views of this laidback community, featuring local shops and artisans. It is also home to Cordova Bay Optometry, a new cold-start clinic founded by Dr. Meaghan Goddard and Dr. Lisa Meister.
Dr. Goddard and Dr. Meister met in 2008 as classmates at the University of Waterloo, and went on to practice independently in Victoria, BC. During a virtual catch-up conversation a while back, they decided to explore the idea of opening a clinic together. Said Drs. Goddard and Meister, "It's so rewarding to see the hours of working together—looking at designs, scribbled logo drawings, and endless Pinterest boards—finally come to life. We are thrilled with the outcome." They recommend that young optometrists looking to start their clinics reach out to peers for advice. "While we often describe ourselves as independent, we shouldn't forget that the optometric community functions more like one large family. We're incredibly grateful for the support we've received from our colleagues, mentors, and old classmates."
Step through the inviting doors of Cordova Bay Optometry, and you're reminded of a cozy coffee shop. Dr. Goddard and Dr. Meister were very deliberate in their choices of building materials, using the more ecologically friendly option whenever possible and collaborating with local artisans to create one-of-a-kind dispensing tables and kids displays made from locally sourced wood. Being owners of a small independent business, they also value supporting other local businesses.
Dr. Goddard and Dr. Meister affectionately refer to their opening day of August 28, 2021, as their "bums in chairs day." Since launching, they continuously strive to maximize the client experience. The Cordova Bay Optometry team works closely to provide high-quality patient-focused care, keeping the patient's best interest in mind for every decision and action taken.
In their professional and personal roles as members of the Cordova Bay community, Dr. Goddard and Dr. Meister are excited to start this month their first of many charitable initiatives, partnering with the local Lions Club to collect food for families in need.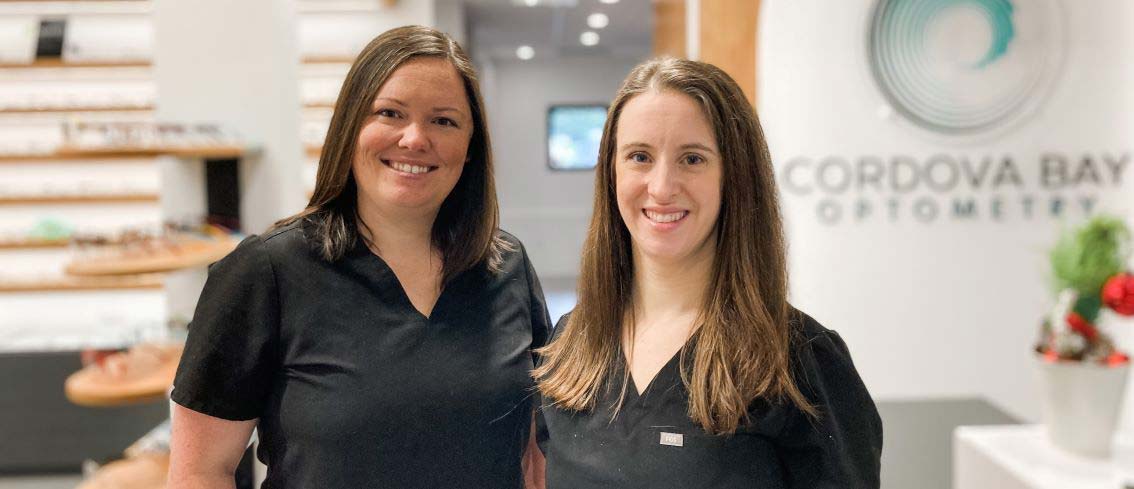 When it came time to select a buying group, Dr. Goddard and Dr. Meister recalled their experience with OSI clinics in their days as associates. Their goal for joining a buying group was to remain competitive as a small business and become members of a community of like-minded individuals. Their previous positive experience with OSI made the choice an easy one.
In addition to benefiting from OSI's buying power, the doctors take advantage of our exclusive promotions on retail products and the Optosys System. When they chose Optosys over other EMR systems, Dr. Goddard and Dr. Meister particularly valued the platform's customizable exam forms, advanced integration with suppliers and overall ease of use for their staff. They also appreciate the software's competitive pricing and one-stop-shop convenience. Optosys offers all the features patients are looking for, such as email copies of prescriptions and invoices, online booking, direct billing, and text messaging, to name a few. Dr. Goddard and Dr. Meister also attended last month's virtual Optosys event which offered a deep dive into new software features and their optimal use.
Dr. Goddard and Dr. Meister added, "We value the training opportunities offered by the OSI Group, especially the Leadership & Management Program, to help us acquire more business acumen. Our local OSI Regional Manager, Jill Davies, has also been very helpful in delivering a comprehensive dispense practice presentation to our team members."
We asked them what finding work-life balance is like for them as young professionals:
Lastly, we asked Dr. Goddard and Dr. Meister what independent optometry means to them. "From a professional perspective, independent optometry provides us with the freedom to practice in a way that best serves our patients' interests. More personally, as women optometrists and now entrepreneurs, owning our clinic offers us the flexibility to grow our practice and attain our professional goals while maintaining our version of a work-life balance for our growing families."
Congratulations on your new clinic, Dr. Goddard and Dr. Meister! We wish you all the best and thank you for making us part of your entrepreneurial journey.