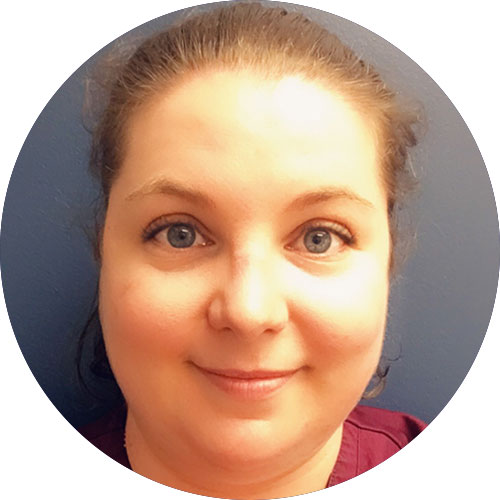 Seizing the Opportunity for Partnership
Dr. Kerri Winger, Cobourg Eye Care
Dr. Kerri Winger, OD, is part of the Cobourg Eye Care office located in Coburg, Ontario. Dr. Winger originally joined the practice ten years ago and has been a partner for the last five years.
As an optometry student at the University of Waterloo, Dr. Winger knew she wanted to partner with an existing clinic. "I knew I wanted to be a partner in school when we had our classes about the different options that could be pursued. We had interview days, and when I interviewed with people, I asked them if becoming a partner was a possibility. One of the people I interviewed with was my current partner, Dr. Jane Coates, OD. I asked her if partnering was a possibility, and she said yes, we'll see how things go. After I worked there for five years, we both decided it was a good fit and then went ahead," explains Dr. Winger.
"I wanted to be a partner because I like to have input on how the office is run," she continues. "I find it a welcome challenge to consider the future and make small changes to see how we can improve our office and see how we run it. I know a lot of people who like the ease of going to work, coming home, and not having to worry about the extra stuff. But at the same time, I find it kind of fun."
Dr. Winger chose to partner with an existing clinic as it offered more stability.
"This clinic already had an existing patient base, it was in a good location and had everything I needed to start with equipment," explains Dr. Winger. "I was happy to make compromises on some aspects in order to feel more confident that the practice itself would remain successful and I would have a relatively steady income and free time," she explains.
When the partnership was officially announced to the staff, Dr. Winger's transition went very smoothly. She underscores the importance of transparency, saying: "I think what helped is that I was first introduced as a new associate who would someday become a partner. From the moment I started, it was put out there. Everyone who worked at the clinic expected that if things went well, at some point, Kerri would become a partner."
"They knew ahead of time this would happen," she adds. "We didn't officially tell them until everything was legally finalized. We wanted to make sure that all went through. In general, they took it very well; however, there was a little challenge to my authority for a couple of weeks until people got used to it. The staff was used to going to Dr. Coates for every decision that had to be made." Dr. Winger explains that over time, everyone adapted to her new role, and she now has a great relationship with her staff.
One of the first changes implemented by Dr. Winger was the Optosys EMR software to optimize practice management and patient experience. This was followed by renovations to update the clinic. Her partner, Dr. Coates, shares that Dr. Winger brought a new perspective to managing, including having a policies and procedures manual. Dr. Winger also encouraged the use of metrics for inventory management.
She stresses the importance of having a good relationship with your potential partner, saying: "In optometry school, we were taught that choosing the right business partner could be harder than choosing a spouse. It is someone you will have to work with during very stressful moments, and your livelihood is on the line. As the current pandemic has proven, being an entrepreneur can be unpredictable. We had to lean on each other and work through things," she adds. "Don't be afraid to make your intentions known. If you want to be a partner, there is no point in taking a job at a practice where you have no possibility of moving up. You should ask that question at the start, even if you don't like that job at the end—at least you have that possibility at the beginning."