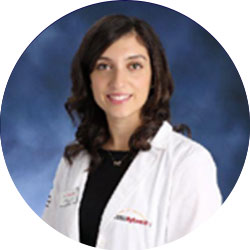 Open Cold to be Your Own Boss
Dr. Jessica Sgro, Schomberg Eye Care
Dr. Jessica Sgro, OD, is in the process of opening cold after gaining four years of experience working at a variety of practices. A graduate of the University of Waterloo, it was important to her to open cold because she wanted to be her own boss. Coming from a family of entrepreneurs, becoming a business owner was an organic decision. "You can choose to run your office your way and really bring your values forward to make it your own brand. In the future, this will lead to freedom with your time and finances," says Dr. Sgro.
Dr. Sgro was inspired by the challenge of learning all aspects of the business for Schomberg Eye Care located in King, Ontario. "It has been a very enjoyable way to learn about business that is not taught at school. During our schooling, we learn a lot about eyes and not a lot about business. We only have one course in the third year," she explains. The lack of business courses can make becoming an entrepreneur a very intimidating decision. Dr. Sgro shares that using experts like lawyers, banks and accountants will make the process more seamless as they provide professional guidance.
Her biggest challenge turned out to be her own consciousness. "I had self-doubts, wondering if I had made the right decision. I am a little nervous because I hope to be successful. My biggest worry is to open and not have any patients. You always worry about not being busy enough. You must change your mindset. If you stay positive, you attract patients. If you're passionate about what you do and care about your patients, you can be very successful," states Dr. Sgro.
As a business owner, you are responsible for both your internal and external marketing. Dr. Sgro has managed to join local Facebook groups to learn more about the community she will be serving: "I've joined these groups to learn about the population that lives there. It's a great resource because there are 4000 people in that group, so I think it will be very useful. I also recommend having a good website," she says.
She encourages networking with healthcare practitioners in the vicinity to support mutual growth. Another way to connect with the clinic's new community is to get involved. "I am planning on reaching out to local schools and setting up a day to go talk about eyes to the students. I also want to send a newsletter home with the children for their parents as well as reach out to local businesses and nursing homes," explains Dr. Sgro.
Bringing an associate on board in the future is part of Dr. Sgro's business plan. "I haven't had children yet, and I would like an associate, maybe soon, depending on how busy the clinic is," Dr. Sgro says. "I would also like to incorporate low vision into my practice as I completed a residency in low vision, and it is something that I am very passionate about. It is a specialty that takes time to build and you need referrals from an ophthalmologist to get those patients in the door."
"I want my office to be a place where anyone feels welcome, young and old, with any kind of budget to buy glasses," she adds.
Dr. Sgro shares that OSI Group has taken the anxiety off the opening process and proved to be a guiding light. "I wish I had joined OSI Group sooner. Having a list of vendors to learn what is available has been helpful. There is a huge financial benefit to joining OSI for ordering products and private labels. The billing is simplified. Every little bit of convenience helps. The guidance from my Practice Advisor as well as the Practice Energizers program has also been very helpful," she explains.
Dr. Sgro's advice for future entrepreneurs is to start the open cold process with a buying group. "Sit down and think of what you want your practice to be and why you want to open it. Make sure you pick a good location and perform a solid competitive analysis of the market area. I used consultants to help me develop my business plan, and they are definitely worth the fee. Your business plan is what is going to get you the funding from the bank," explains Dr. Sgro.
"Don't overthink things. Don't let your thoughts impair your dreams. Surround yourself with positivity," she concludes.